Wood Look Tile Flooring
Rich, supple hardwood is always in demand, but the real thing isn't always on your personal menu. Actual hardwood often comes with a hefty price tag, while your intended space isn't always the ideal hardwood habitat. Luckily, we have a better way to enjoy these stunning looks. Wood-look tile is always enduring, and always stunning. With wonderful wood looks available in both ceramic and porcelain, wood-look tile is affordable flooring that always looks affluent.
At L & M Carpet One Floor & Home, your local hub for all tile needs, we carry a wide array of wood-look options. Wood-look tile, which achieves its appearance via advanced digital imaging, arrives with distinctively realistic patterns made form photographs of actual hardwood. The end result is a tile that's offered up in both plank and traditional formats, and in a wide array of hardwood species, making it easy to create your perfect custom design.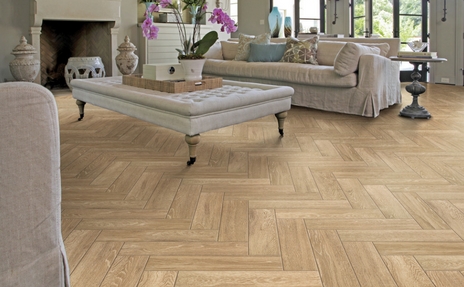 Benefits of Wood-Look Tile
Natural hardwood flooring has quite a few limitations, but wood-look tile knows few such boundaries. Appropriate for usage both indoors and outdoors, on floors and on walls, wood-look tile won't ever warp or bend in bouts of extreme humidity, heat, or cold. It also won't become damaged by everyday splashes and splatters, since it's considered fully moisture resistant. This critical trait allows you to enjoy this terrific tile on an outdoor patio, and even as a shower backsplash. It's easy to care for, and can simply be wiped clean.

Offering us beautiful "hardwood" minus the undesirable hassles, wood-look tile is a wonderful addition to many types of spaces.