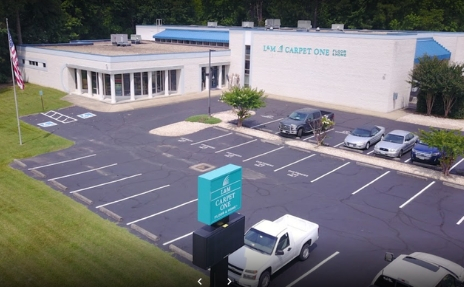 As a local family-owned business, L & M Carpet One Floor & Home is proud to be a part of the nation's largest floor-covering cooperative. With the buying power of over 2800 stores we're able to offer our customers industry¬-leading products, interest-free financing, and the best warranties on products and installation at the lowest prices around - guaranteed. Whether it's for your home or business, we've got you covered! From the moment you step through our doors to the day our professional installers walk out of your doors. we deliver quality from start to finish.
We happily invite you to visit our 10,000 square foot showroom, borrow samples, and explore our products online. In addition to our exclusive product offerings, we feature products from recognized brands such as Mannington, Armstrong, COREtec, Shaw, Mohawk, Stainmaster, Tarkett, Congoleum, and countless others.
With over 500 years of combined experience, our team here at L&M Carpet One Floor and Home continues to work hard earning your trust, business, and loyalty by providing quality flooring solutions in the Mechanicsville and Greater Richmond area. From our family to yours, thank you for supporting our local business.
Our Heritage Story
| | |
| --- | --- |
| | Bill McDaniel and Tom Lacy had been working diligently for one of Richmond's largest ceiling and flooring companies for almost a decade. Together, they decided to take their knowledge and skills and chase the opportunity to become business owners in the fall of 1969, choosing the name L&M Tile and Floor Covering Company, Inc. That fall, they purchased one pick-up truck and began renting a small building in Highland Springs. |
| As a new company, they needed a chance to prove what they could do. McDaniel remembers approaching a local home builder at the time, hoping to secure their first customer. The builder told McDaniel that they already had a floor covering installer they had been using for years. Discouraged, the two continued attempting to get their name out. The builder would later re-connect with McDaniel to give L&M the opportunity as their chosen floor covering installer. This connection helped lay the foundation for the company, leading to several other customers. | |
| | With a growing customer base, the two recognized they would need to make changes to address the needs of the customers. They purchased a second truck and hired two helpers, one for McDaniel and one for Lacy. Their former manager warned McDaniel to focus on residential OR commercial, but to not attempt both. McDaniel, however, had a bigger vision for L&M than an "either/or" mentality. That vision allowed L&M to secure any type of work available at the time, assisting greatly in their success. |
| In 1975, L&M Tile and Floor Covering Company, Inc. was ready for a new facility. This facility was constructed less than half a mile from the original location. In 1982, a new location was opened on Broad Street. | |
| | L&M Tile and Floor Covering Company, Inc. joined Carpet One, a national cooperative made up of 1,300 independently owned floor covering dealers nationwide. This cooperative gives L&M the ability to combine their purchasing with the other members of the co-op, taking advantage of large scale buying power. Later on L&M incorporated the Carpet One name, making the new trading name L&M Carpet One Floor and Home. |
| 2004: Morris Shelton, a salesman for L&M since 1978 who served in multiple capacities, became President of L&M Carpet One. Renton Arkesteyn, an employee since 1991 who started in the warehouse, delivery and installations divisions took on Estimating as McDaniel transitioned into retirement. When McDaniel retired, Renton became Vice President of L&M. | |
| | Matt Shelton, who had helped fill several roles in the company during college breaks including both warehouse and retail roles, joined the family business full time in 2010. Today, Matt serves as the Vice President of Sales, a driving force in modernizing the business operations and growing a team of energized and passionate talent. |
| L&M has undoubtedly exceeded the expectations set for the company in 1969. The achievements and successes of the company lie, in part, in the shared commitment to excellence by all employees, helping to maintain and grow a customer base of Richmond's top business, home owners, and home builders. According to McDaniel, success has come mostly from "Just being blessed". The history of L&M provides great insight into the company's origin, but what does that mean for the company today? | |
| | Today, the company remains focused on hiring only top talent who hold customer satisfaction as top priority. L&M boasts an impressive list of professionals who have been with the company for over a decade. Throughout the many years and different locations, L&M Carpet One Floor and Home holds true to its humble beginnings. Under the strong, experienced leadership of Morris Shelton, Renton Arkesteyn, and Matt Shelton, L&M remains dedicated to providing you with only the highest level of customer satisfaction through skilled and trustworthy flooring experts at every stage of your project. |
Building for Americas Bravest | Current Promotions | Job Opportunities | Why Shop L&M? | Reviews
Flooring Services

Financing
Home Builder Services
House Flipping Services
In-House Installers
Insurance Work
Interior Design Services
Kitchen & Bathroom Design
Property Management Services
Residential Installation
Restoration Services
Restoration Services

In-Store Products

Window Treatments
Carpet Padding
Carpet Remnants
Wall Tiles
Backsplash Tile
In-Stock Products
Natural Stone Products
Custom Backsplashes
Custom Stair Runners
Custom Tiled Showers
Heated Floor Systems
Shower Systems
Areas Served
Mechanicsville, VA | Richmond, VA | Studley, VA | Henrico, VA | Sandston, VA | Manquin, VA | Hanover, VA | New Kent, VA | Glen Allen, VA | Ashland, VA | Regency, VA | Midlothian, VA | South Chesterfield, VA | Tappahannock, VA | Manakin-Sabot, VA | Henrico, VA | Montpelier, VA